Welcome back to the F45 Training Seattle blog! Today we'll be discussing what exactly it is about F45 Training that makes it so unique and effective. If you've been looking for a high-energy, positive, and intentional Seattle gym, we'd love to tell you a little bit about what makes ours a good candidate. 
We'll discuss F45 Training basics, which include functional fitness training, HIIT style workouts, and what you can expect from your first F45 Training session at any one of our three Seattle gyms — Queen Anne, Northgate, and the Central District. For intelligent, passionate group fitness in Seattle, F45 Training is the place to be! Below, we tell you exactly why and how. 
What Is F45 Training? 
We are so glad you asked! F45 Training is a revolutionary blend of HIIT exercises, circuit workouts, and functional fitness training. Our workouts are designed to improve your strength, well-being, and how you feel about yourself in tangible ways. 
We want you to feel stronger and more unified in all aspects of your life. With a community of like-minded, positive people to help you stay motivated and engaged, it's a group effort to reach individual goals. 
Your First Class
First day of training? No problem! All you need to do is expect the following:
Show up ten minutes before class starts so you can meet your trainer, get checked in, and prepare yourself for an awesome workout!

Before you do a thing, we'll have you line up on the blue line with the rest of the class so that our trainers can take you step by step through each exercise you will perform during the day's class. You'll know exactly what to expect.

Next, you'll warm-up so you can perform at your optimum level. 

Hit the gas! Get ready for 45 minutes of sweating, heart pumping, and exhilaration. It's a blast, and it's over before you know it!

Give and get the best high-fives of your life — you'll have earned them! This is team training. This is life changing. This is F45.
Functional HIIT
Check out our awesome video on functional training in Seattle if you'd like to see more visuals of real workouts in action. Ultimately, our blend of functional fitness and HIIT (high intensity interval training) work in harmony to make sure you achieve your fitness goals in a safe, unified way. With our blend of bodyweight workouts, cardio, diverse exercises, circuit training, and personal performance tracking, you'll get the edge to meet your fitness goals. 
Team Training Seattle
At the heart of F45 is our team spirit. The team training mentality helps members stay accountable and consistent so that everyone can meet their individual goals. It really is a community here; it's something you'll have to come into contact with to fully understand. Our members help transform one another's lifestyle both physically and mentally through encouragement, passion, and a no-ego attitude!
45 Minutes Of Intensity
On Mondays, Wednesdays, and Fridays we offer cardio classes that push your cardiovascular capacity to the absolute limit in a HIIT and circuit session. After this Seattle group fitness class, your metabolism will be in full-flow for the rest of the day. 
On Tuesdays, Thursdays, and Sundays, we offer resistance classes that perfectly combine functional movement workouts with a full body burn. If you are looking to get toned from head to toe, this is the fitness class for you.
On Saturdays and Sundays, we offer special "hybrid" classes, which blend cardio and resistance training which will challenge you on multiple fronts, including your endurance and power. We work hard for 45 minutes, and then reap the rewards of feeling and looking great!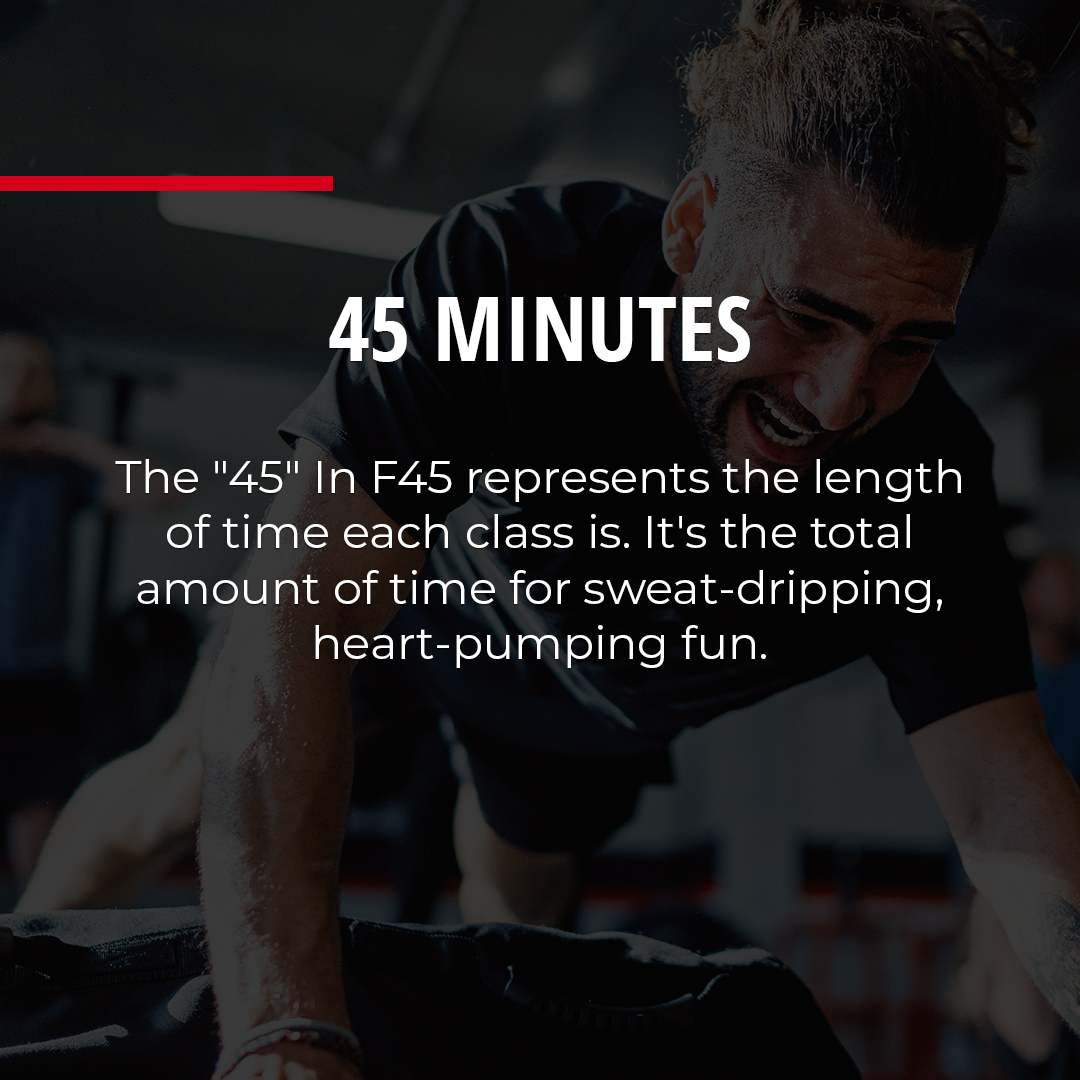 Spotlight: 8 Week Challenge
F45 has a combined challenge weight loss target of over 2.5 million pounds! Born out of Australia, our approach to fitness has spread like wildfire throughout the world.
The 8 Week Challenge includes:
Goal Tracking
Nutritional Support
Daily Meal Plans
Shopping Guides
Accountability Groups
In-Studio Grand Prize
More!
If you'd like to learn more about joining the challenge, simply give us a call and we'd be happy to walk you through the details!

Start Your 1 Week Free Trial At F45 Training!
For real, life-changing results, F45 is the best Seattle gym you will find. All members get access to their own free personal nutrition program to help you meet your health and fitness objectives with meal plans, progress tracking, and the support of our incredible community. Join the F45 Challenge!